So MONDAY is a hard day for us..well because its MONDAY. I know, preaching to the choir. It just takes us a little while to get moving. I need to be one of those moms who takes Sunday afternoon to get the house in order for the rest of the week...but so fair, the only order we have had is our Sunday afternoon naps or shopping dates with my daughter, which I just love!
(she's becoming a shopaholic..but she gets it honestly)
So I present my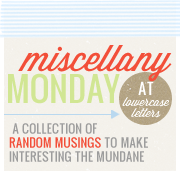 brought to you
by the lovely Carissa Graham of Lowercase Letters Blog..Great idea Carissa!
1. Madness started when a cement pole stepped in front of me at Wal-mart as I was looking for a parking place.
Cement pole: 1
Jeep: 0
2. Madness started when I realized that between my husband and I, we have no idea where my keys are. Not the first time this has happened, but I'm usually the one who misplaces them...now its my husband who has misplaced them.
3.Madness is trying to start good habits and then getting tired of it after a month.
Isn't more fun to just to let it go? ; )
4.Madness is staying focused while trying to Homeschool as its getting nicer.
Not the kids...ME!
I'm ready for warm weather, swimming, flowers and late night bon-fires with good friends.
5.Madness is gas prices. Nuff said.
6.Madness is balance...
balance = less stress
Funny how that works.
7.Madness is Julian Michaels. I started 30 day shred. Love the work out. Dislike her.
Guess you dont get guns like that being nice though.
8.Madness is knowing my baby girl just turned 8 last Friday.
9. Madness is having that 8 year old asking what Sexy is. Gulp. Really, already?
10. Madness is all the cute shirts I got at Old Navy..I gotta thing for floral. Cant wait to get some cute dresses and skirts.
11. Madness is Japan and the devastation that is taking place.
Praying that God lifts their heads and that through this,
that they will be filled with Hope that only God can provide.
12. Madness is the dates...
NY(Sept. 11) Haiti(Jan.11) Japan(March 11).
Coincidence?